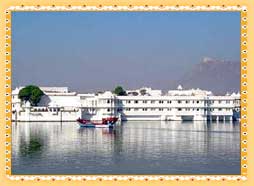 The sixth day of the journey will be reserved for visiting
Udaipur
, known as the Venice of the East. Founded by Maharana Udai Singh II in 1568, the city is home to a large number of lakes. Therefore, it is sometimes referred to as 'The City of Lakes' also. Palaces, forts, gardens and lakes make the trip to the city truly memorable. Check out Udaipur Travel by the luxury train 'Palace on Wheels'...
Itinerary of Udaipur Luxury Train Travel
On the morning of the sixth day, Palace of Wheels will make a halt at Udaipur. The first tourist place on the itinerary will be Lake Palace (Jag Niwas), situated in the middle of Lake Pichola. Now converted into a hotel, the palace stands adorned with ethnic textiles and handicrafts. Next on the itinerary is Jag Mandir, a palace located on the other island in Lake Pichola. Both the structures seem to be rising from the clear blue waters of the lake.
Lunch is followed by a visit to the City Palace, a blend of fusion of Medieval, European and Chinese architecture. In the evening, the crystal gallery, of Fateh Prakash Palace, shall be visited. The gallery has an incredible collection of crystals, ordered by Maharana Sajjan Singh from F & C Osler England. Thereafter, the tourists will proceed towards the train, which will leave for Bharatpur city.