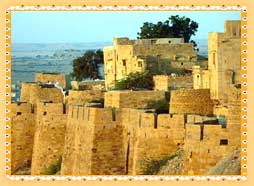 After Jaipur, the next halt of the Palace on Wheels will be in Jaisalmer, one of the most beautiful cities of Rajasthan. Rawal Jaisal, a Bhatti Rajput ruler, founded the city in 1156 AD. The marvelous fort, the splendid havelis and the rich culture of Jaisalmer is bound to make you fall in love with the city. One thing is for sure, you will not regret your travel to Jaisalmer by the luxury train 'Palace on Wheels'. Given below is more information about Jaisalmer travel by Palace on Wheels...
Itinerary of Jaisalmer Luxury Train Travel
The first stoppage in the city of Jaisalmer will be made at the massive Jaisalmer fort. The second largest fort in Rajasthan, it is adorned with exquisite architecture and provides an awe-inspiring view of the vast desert below. Next on the itinerary will be a tour of the magnificent havelis (mansions) of
Rajasthan
, particularly Nathmalji-ki-haveli, Patwon-ki-haveli and Salim Singh-ki-haveli. All of them display the exquisite craftsmanship of the stone carvers of the old times.
There is a Government-run emporium if Jaisalmer also, where one can buy silver jewelry, pattu shawls, wooden boxes, embroidered articles, trinkets, beautiful mirror work and other knick knacks. In the afternoon, the tourists shall have lunch, followed by a camel ride on the amazing Sam sand dunes. Dinner and a cultural program at a Jaisalmer hotel will bring the itinerary in the city to culmination. At night, the train will leave for Jodhpur.