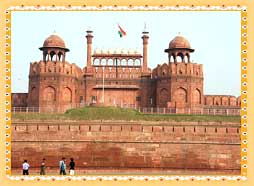 Delhi
is the base station for the travel journey aboard the magnificent Palace on Wheels. The train starts from the Safdarjung Railway station in New Delhi, precisely at 16:00 hrs (4:0 pm). On arrival, the guests are given a traditional Indian welcome and thereafter, Palace on Wheels starts on a journey of some of the best tourist destinations in India. Thus, the capital city of Delhi provides the perfect start to travel by the best luxury train in the country. Read on to know more about Delhi luxury train travel...
Delhi is one of the most historically as well as well architecturally rich cities of India. As per the legends surrounding the city, it is in existence since the time of the Pandavas, when it was called Indraprastha. With the passage of time, the city flourished under various rulers and expanded to great dimensions. Today, it is the third largest city in the country. However, the different eras through which Delhi passed left their impressions on the city, contributing to its varied and diverse culture.
The capital city of Delhi is full of so many tourist attractions that it is impossible to cover all of them in a single trip. Right from temples to forts to museums to gardens to amusement parks, anything and everything is present in the city. The areas of Old Delhi bring back the memories of the Mughals, while New Delhi makes one reminisce the British.
The city is also a paradise for shoppers. The numerous markets of Delhi, sell everything from clothes to footwear to spices. With a larger number of art galleries, movie theaters, pubs and discotheques, there is something for everyone to enjoy himself. So, what are you waiting for? Just grab your bag and come to explore the rich diversity of the capital city of India.