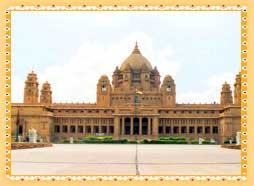 On the fourth day, the Palace on Wheels will reach the Sun City of Rajasthan i.e., Jodhpur. Rao Jodha, a chief of the Rathore clan, laid down the foundation of the city in the year 1459. Divided into two parts by a wall,
Jodhpur
boasts of mesmerizing landscape. Apart from its magnificent monuments, the city is also known for its brilliant handicrafts. Travel to Jodhpur by the luxury train 'Palace of Wheels' is the perfect way to explore the city. Check out more on Jodhpur travel by Palace on Wheels...
The Itinerary of Jodhpur Luxury Train Travel
The first and foremost place on the itinerary of Jodhpur will be the massive Mehrangarh fort. It was founded by Rao Jodha in 1459 and is considered to be one of the biggest as well as the most beautiful forts in India. There are many things worth watching in this fort, like its palaces, galleries, museum, etc. Situated across the fort is Jaswant Thada, the royal cenotaph built in the memory of Maharaja Jaswant Singh II.
Jodhpur is also quite famous for its amazing handicrafts, like paintings, embroidered shoes, tie and dye fabrics, silverware, breeches, metal curios, etc. One can shop for these items at the Gun-run emporium, offering reasonable prices. The lunch shall be had at a Palace hotel. Thereafter, the tourists shall be taken back to the Palace on Wheels.