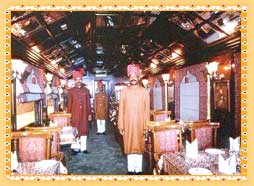 Palace on Wheels combines the facilities of a luxury train and a luxury hotel. Ranging from personal attendants to bar to restaurants, all the facilities are provided on board the Palace on Wheels. Infact, you never get to feel that you are inside a moving train. In the following lines, we have provided more information about the facility of Palace on Wheels, India...
Accommodation
Palace of Wheels comprises of fourteen fully air-conditioned coaches or salons. Each and every coach has 4 fully carpeted chambers (with two beds), with attached bathrooms, intercoms, music, etc.
Luggage
The personal attendants of every coach perform the task of taking your luggage to your respective chamber.
Arrival Kit
An arrival kit is kept in each and every chamber of the Palace on Wheels before the arrival of the tourists. It comprises of the necessary tit bits like stationery items, brochures, cards, etc.
Personal Attendants (Khidmatgar)
Each and every coach or salon has personal attendants attached to it. These Khidmatgars are always at the beck and call of the travelers, to take care of all their travel needs.
Meals
The cuisines served onboard the Palace on Wheels range from Continental to Chinese to Indian and Rajasthani.
Water
Keeping in mind the health and safety of the guests, only mineral water is served inside the train and it is made available throughout the journey.
Newspapers and Magazines
In the morning, the travelers are greeted with a steaming cup of coffee or tea, along with a copy of the leading newspapers. There is also a large collection of magazines inside the train.
Toiletries
All the necessary toiletries, like soaps, shampoos, moisturizers, etc, are made available inside the Palace on Wheels.
Common Facilities aboard the Palace on Wheels
Bar
A Bar, stocked with the best Indian as well as international liquor, wine and other spirits, is one of the most popular facilities inside the train.
Indoor Games
There are facilities for playing indoor games, such as Chess, Cards, Chinese Checkers, Carrom, Crossword Puzzles, etc.
Lounge
In every coach, there is a lounge for the purpose of relaxation as well as interaction amongst the travelers.
Mail Box
There is also a provision of mailbox inside the Palace on Wheels, where you can post your mail.
Medical Aid
The facility of first aid is available at all the times inside the train. There is also the provision of calling a doctor at the next station the rain is about to reach.
Restaurants
The two restaurants onboard the Palace on Wheels, "The Maharaja" and "The Maharani", offer delicious Continental, Chinese, Indian and Rajasthani cuisine.
Proposed Facilities
ATM/and Satellite Phone
There is a proposal of providing ATM and Satellite Phone facilities inside the train.