Palace on Wheels train, India/Rajasthan takes you back to history. Travel by Palace on Wheels luxury train to know about the royal way of life of former Indian rulers.
Palace on Wheels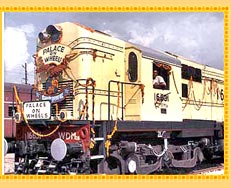 Palace on Wheels was started with the aim of providing the tourists of Rajasthan with a unique and unforgettable experience. The train brings alive the royal era, which was once synonymous with Rajasthan, and takes you on a whirlwind tour of the state. If you wish to experience how the royalty lived and traveled, Palace on Wheels luxury train is your best bet. The majestic interiors of the train are completely in sync with the charm and splendor of the places that you will be visiting on board. In the following lines, we have provided more information on Palace on Wheels, India.
Palace on Wheels has been rated amongst the top ten luxury train journeys throughout the world. It takes you on a seven-day trip and brings you face to face with the various aspects of India, right from forts and palaces to its rich wildlife. The journey on Palace on Wheels starts from the Safdarjung Railway Station of Delhi and culminates at the Safdarjung Railway Station itself. The coaches used for the Palace on Wheels were originally meant to be used by the erstwhile kings and royalty.
A long time after independence (1981-82), the Government of India decided to convert the royal train into a luxury train. With time, many infrastructural changes were introduced in the train. However, the ambience as well as the interiors of original the train was maintained. A new train, with air-conditioned broad gauges, replaced the old one in the year 1991. It comprised of 14 saloons, 2 restaurant-cum-kitchen cars, one Bar-cum-Lounge and 4 service Cars. The services provided in the car were extended to include a lounge, a library and a bar.
Palace on Wheels takes you on an amazing seven-day journey of the majestic state of Rajasthan, starting from Delhi. The cities covered during the journey include 'Pink City' of Jaipur; Jaisalmer; 'Sun City' of Jodhpur; Ranthambore and Udaipur or 'Venice of the East'. In the last leg of its journey, Palace on Wheels takes you on a tour of the red city of Fatehpur Sikri and Agra or "City of the Taj'. Be a part of this luxury safari and we promise you that you will feel like royalty yourself. The grandeur of a journey on Palace on Wheels is bound to remain etched in your memory forever.
Besides the luxury trains like the Palace on Wheels, Royal Rajasthan on Wheels, Deccan Odyssey and the Maharaja's Express , the Indian Railways operates thousands of trains across India and offers tickets in AC 1, AC 2, AC 3, Second Class Sleeper and General Class (Unreserved). You can make
train enquiry
to known about trains running between two stations and also enquire about ticket availability online and book the same.